The local camera club held its first monthly competition which was judged by the colourful Tremaine Cornish who joined us from the Wirral. Tremaine is an experienced judge who has reviewed images at the highest levels in the UK and abroad and he offered some really interesting insights into the images on show. There were two sections as usual; prints and digitally projected images with 60 images on view across both sections as the membership attended in good numbers.
Amongst the prints were some excellent examples of traditional landscapes, portraits, wildlife and a number of creative images that had been processed in different ways. Tremaine commented on all the images in a constructive manner to help the members develop their knowledge and skill, he then selected seven images to which he awarded placings and commendations. The placings were: 1st – 'Ink and Iron' by Steve Proctor; 2nd – 'Woodland Red' by Steve Proctor; 3rd – 'Wildman' by Clare Drew.
The Projected images also included a wide range of subjects that showcased the member's artistic and technical knowhow, there were some outstanding mono images amongst them. Again, the judge commented on each offering with advice where it was beneficial and gave each a score out of 20. The final selection was held back and again a number of commendations and placings were awarded. The placings were: 1st – 'Sparrowhawk Aggression' by Steve Proctor; 2nd – 'Hello Boys' by Gary Williamson; =3rd – 'Stare Case' by Lesley Marklew and 'Point of Contact' by Stephen Robinson.
During the evening both Clare Drew and Steve Proctor were awarded certificates for their successful mono entries in the Inter-Club Photographic Alliance annual competition, Clare won the section with Steve coming second.
Next week the club is holding an international competition with Torrieveja from the southern Spanish coast when each club will have twenty images judged with points awarded for each and the winner the club with the highest aggregate score. Ribblesdale currently hold the trophy for this competition and are keen to hold on to it.
All non-members are invited to attend the club where they will be offered our best welcome along with coffee and cake afterwards. Meetings are held at Grindleton Pavillion at 7:30 pm each Tuesday night.
Ink and Iron
Woodland Red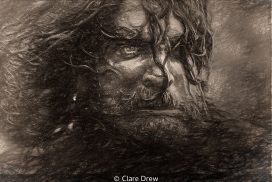 Top 3 Placed Digital Images